If you are looking for a new place to go on an adventure then you should try visiting the Isle of Skye which is just located off the west coast of mainland Scotland. The place has so much to offer travelers and campers. You do not even need to worry about accommodations since the main island and the adjacent mainland offers a lot of options. Whether it is a one night stay complemented by a nice breakfast the morning after or a week or so in a cottage, the Isle can provide it. If you are with your kids then you can choose to go to the Hebridean Hotel. It is run by a family and it has a reputation for being warm towards children. And this is just one of the few where you can stay at.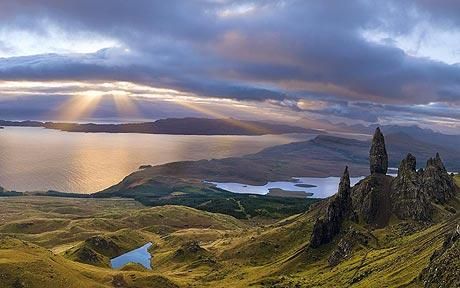 On the other hand, if you are camping then the best place to settle down for the night is the Ashaig camping site. It is the perfect staging ground if you plan to travel the whole expanse of the misty island. Shops are just a couple of minutes away and they all provide your camping needs. There is also a bus available in case you are worried about transportation. Just remember one important rule though when camping: keep it quiet during the evening. You would not want the people around giving you those raised eyebrows and frowning expressions.
You'll occasionally see some remains of seals due to conflicts between male seals. With little food and fresh water, your only hope is to go to the mainland. If you do not have a functioning life rack then the most that you could do is swim towards the mainland. Be forewarned since the waters are freezing and you will need all the insulation that you can get. If you see a seal, you can use its carcass or skin as an insulator since their bodies are accustomed to the cold waters. You cannot afford to risk swimming without some form of insulation here since you will eventually be exhausted and later become unconscious. At the worse, you will die. Separate the insides and the blubber from the carcass since you will only need the carcass. It is important to be careful in cutting the carcass since you would not want to ruin the skin. The Vikings in the area used to utilize seal's skin to protect them from the cold climate and even use it for food.
Image credit: www.telegraph.co.uk